I've been browsing the internet for cob oven instructions and information after seeing one on
The Path To Freedom
site. Isn't it beautiful?
I found some instructions on the Instructable website
here
. In the article keeps referring to
Kiko Denzer's book
, which, lucky for me, my local library has! I'm so excited at the prospect of having my very own outdoor cob oven.
Here are some photos of artistic cob ovens built by Kiko Denzer and others for inspiration.
Here is an adorable toad shaped oven from
cobcottage.com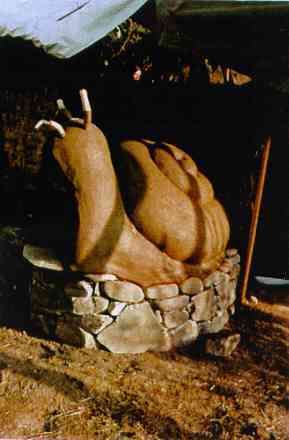 And a snail from the same site
Another frog oven from
ranchomastatal.com
I'm sensing a frog theme. This cute oven is from
cobworks.com
I love the mustache! This creative cob oven comes from
appropedia.org
And lastly, here is a great article on a community center putting in there cob oven.
Southern Cross Permaculture Institute
and their oven.